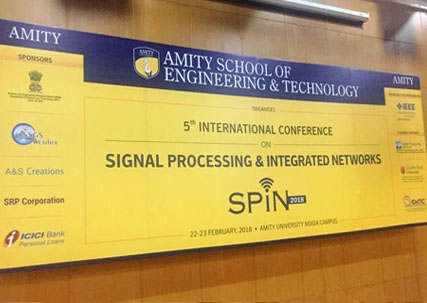 Signal Processing and Integrated Networks,SPIN-2018 was organized by Amity University, Noida, on 22-23 February 2018.The Conference aims to bring together scientists,academicians and industrialists working in the field of Signal Processing and Integrated Networks to discuss new ideas and promote research work.
The conference was devoted to all advancements in Signal Processing and Integrated Networks. Researchers from all over the country and abroad gathered in order to introduce their recent advances in the field and thereby promote the exchange of new ideas, results and techniques. The conference was a successive catalyst in promoting research work, sharing views and getting innovative ideas in this field.
http://www.amity.edu/spin2018/
This two-day conference offered a unique opportunity to gain insight into state-of-the-art technology in the field and to network with international researchers and scientists. SGS Weather & Environmental Systems proudly sponsored and participated in this conference and wishes good luck to the organizing committee for their future endeavors.